Research article

Open Access

Open Peer Review
This article has Open Peer Review reports available.
Cyclic PaO2 oscillations assessed in the renal microcirculation: correlation with tidal volume in a porcine model of lung lavage
BMC Anesthesiology
BMC series – open, inclusive and trusted
2017
17:92
Received: 30 December 2016
Accepted: 30 June 2017
Published: 11 July 2017
Abstract
Background
Oscillations of the arterial partial pressure of oxygen induced by varying shunt fractions occur during cyclic alveolar recruitment within the injured lung. Recently, these were proposed as a pathomechanism that may be relevant for remote organ injury following acute respiratory distress syndrome. This study examines the transmission of oxygen oscillations to the renal tissue and their tidal volume dependency.
Methods
Lung injury was induced by repetitive bronchoalveolar lavage in eight anaesthetized pigs. Cyclic alveolar recruitment was provoked by high tidal volume ventilation. Oscillations of the arterial partial pressure of oxygen were measured in real-time in the macrocirculation by multi-frequency phase fluorimetry and in the renal microcirculation by combined white-light spectrometry and laser-Doppler flowmetry during tidal volume down-titration.
Results
Significant respiratory-dependent oxygen oscillations were detected in the macrocirculation and transmitted to the renal microcirculation in a substantial extent. The amplitudes of these oscillations significantly correlate to the applied tidal volume and are minimized during down-titration.
Conclusions
In a porcine model oscillations of the arterial partial pressure of oxygen are induced by cyclic alveolar recruitment and transmitted to the renal microcirculation in a tidal volume-dependent fashion. They might play a role in organ crosstalk and remote organ damage following lung injury.
Keywords
ArdsCyclic recruitmentLung injuryOrgan crosstalkRenal failure
Background
Adverse effects of remote organ crosstalk is a common and severe problem in intensive care patients and a novel field of research [1]. Organ dysfunctions, especially acute respiratory distress syndrome (ARDS) and acute kidney injury, can be caused by the same external etiology, but also trigger each other. The combination of both is linked to prolonged intensive care stays and increased mortality [2–4]. The underlying pathways are not fully understood, but are likely linked to increased inflammation [5]. Respiratory cycle-dependent recruitment and derecruitment of lung parenchyma (cRD), defined as atelectotrauma, plays an important role in ventilator-induced lung injury by applying shearing forces to lung tissue, which lead to pulmonary and/or systemic inflammation [6]. In addition to pulmonary injury, cRD generates varying shunt fractions within the respiratory cycle that lead to ultrafast oscillations of the arterial oxygen partial pressure (PaO2) and can be detected in macrocirculation, microcirculation, and even in brain tissue [7–10]. A novel technique based on multi-frequency phase fluorimetry (MFPF) can be used to detect PaO2 oscillations in real-time. For this purpose a ruthenium-covered probe is inserted into the arterial circulation. Currently, an advanced version of this technique allows continuous real-time measurements [8, 11].
Several experimental studies recently addressed the influence of various respiratory patterns or modes on the occurrence and extent of these oscillations [12–15]. Preclinical data suggest that the occurrence of intermitting oxygen oscillations per se might represent a trigger for remote organ failure following lung injury [6, 16–19]. The role of the tidal volume as driving force for PaO2 oscillations, their transmission to various distant organ microcirculatory sites and particularly the kidney is yet unknown.
We hypothesized that oscillations of PaO2 that are induced by cRD are (I) transmitted to the renal tissue and change oxygen saturation at the capillary level, and that (II) the magnitude of this effect depends on the respiratory tidal volume. This transmission may be a possible pathway of the injured lung directly affecting renal integrity.
Results
Hemodynamics and ventilation parameters remained stable during all measurements. The alveolar lavage created significant acute lung injury as demonstrated by the PaO
2
/FiO
2
ratio dropping from 505 ± 49 to 202 ± 90 mmHg. Cardio-respiratory measurements during baseline assessment and cRD are summarized in Table
1
.
Table 1
Measurements during baseline assessment and cRD with maximum tidal volume
| Value | Unit | Baseline | cRD | P-value |
| --- | --- | --- | --- | --- |
| CO | l/min | 3.7 ± 0.6 | 3.8 ± 1.0 | n.s. |
| MAP | mmHg | 94 ± 16 | 84 ± 11 | n.s. |
| RR | 1/min | 34 ± 4 | 6 ± 1 | <0.01 |
| PaO2/FiO2 | mmHg | 505 ± 49 | 205 ± 90 | <0.01 |
| Pplat | mbar | 14 ± 2. | 32 ± 5 | <0.01 |
| PEEP | mbar | 5 ± 1 | 0.1 ± 1 | <0.01 |
| Vt | ml/kg | 7.5 ± 0.3 | 27.7 ± 1.5 | <0.01 |
| pH | - | 7.47 ± 0.05 | 7.35 ± 0.06 | <0.01 |
| pCO2 | mmHg | 44.58 ± 4.37 | 62.73 ± 7.61 | <0.01 |
During baseline conditions we neither recorded oscillations in PaO
2
nor in SrO
2
. Application of the aggressive respirator setting in healthy conditions resulted in average oscillation of 22 mmHg without SrO
2
oscillations. No inverse oscillations that can be attributed to perfusion alterations were found [
20
]. Following acute lung injury and cRD provocation, large PaO
2
oscillation amplitudes of 155 ± 66 mmHg occurred. These were accompanied by corresponding SrO
2
oscillations (2.6 ± 1.5%) as shown in Fig.
1
. The PaO
2
and SrO
2
oscillation amplitudes significantly differed from the baseline value (Fig.
2
). The down-titration of the applied tidal volume immediately reduced the PaO
2
and SrO
2
oscillation amplitudes despite comparable absolute PaO
2
(Figs.
2
,
3
). The corresponding airway driving pressures were 32 ± 4 mbar during initial setting and decreased during tidal volume titration (20 ml/kg: 29 ± 4, 15 ml/kg: 26 ± 4, 10 ml/kg: 23 ± 3 [mbar]). The extent of the PaO
2
and SrO
2
oscillations significantly correlated with the applied tidal volume (Pearson Coefficient
R
= 0.82 respectively
R
= 0.58, each
p
< 0.01; Fig.
3
). Oscillation amplitudes of SrO
2
and PaO
2
as well correlated with each other (Pearson Coefficient
R
= 0.46,
p
= 0.02). Tidal volume reduction down to 10 ml/kg eliminated ongoing oxygen oscillations. The average of PaO
2
measured via MFPF correlated with the corresponding value acquired via blood gas analysis (Pearson Coefficient
R
= 0.95,
p
< 0.01).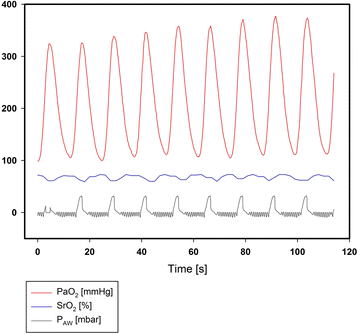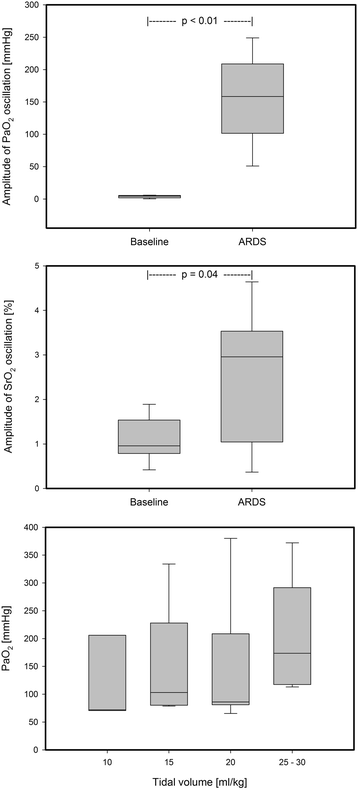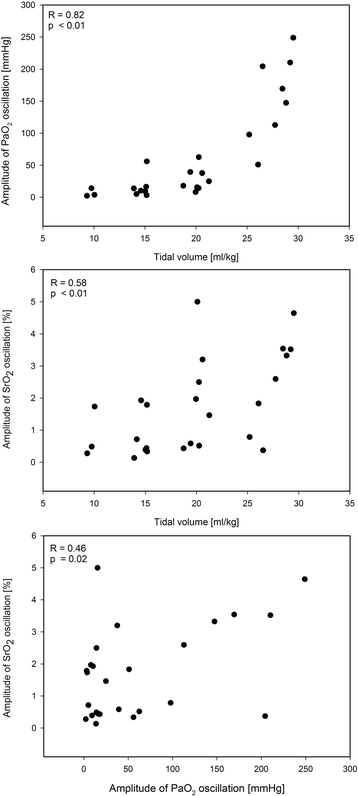 Discussion
The present study reveals two key findings: systemic cRD-induced PaO2 oscillations are transmitted to the renal microcirculation and depend on the tidal volume. To our knowledge, this is the first study that shows a direct alteration of renal capillary oxygen saturation due to fast intratidal changes of shunt and PaO2 within the injured lung.
Dynamic lung stress leading to atelectrauma is proposed to be a major contributor of ventilator-induced damage within the injured lung [21, 22]. cRD exposed lung areas were shown to exert high amounts of inflammatory response [23]. Baumgardner et al. first reported the occurrence of large scale respiratory-dependent PaO2 oscillations caused by cRD in a rabbit model [12]. Interestingly, perfusion-related inverse oscillations that are not induced by cRD can also be provoked in healthy pigs [20]. An occurrence of small oscillation amplitudes (< 30 mmHg) during our aggressive respiratory setting even in healthy state is in line with previous reports [14]. The present proof of concept study did not directly assess the underlying mechanism of cRD and its correlation to PaO2 oscillations. This seems reasonable as it was sufficiently certified by several approaches [12, 14, 24, 25]. Due to the lack of clinical or bedside devices for detection of fast intratidal variations such as cRD, the detection of respiratory-dependent PaO2-oscillations was proposed as an indicator for indirect quantification of cRD [7].
cRD-induced variations of the PaO2 are transmitted into peripheral microcirculation and may lead to cyclically occurring episodes of hyper- or hypoxia [8]. Various cell types are compromised when exposed to cyclic oxygen variations both in a hyperoxic and hypoxic range: both ranges trigger were shown to be associated with inflammatory response [16, 17]. Furthermore, oxidative stress may play a role for oscillations leading to intermittent hyperoxia [16, 17]. Systemic PaO2 oscillations are also transmitted to the cerebral tissue [10]. Long-term exposure to PaO2 oscillations furthermore causes neuronal injury and inflammatory response within the brain, [6] which may represent a mechanism of deleterious organ crosstalk following single organ failure. Acute kidney injury is the most common organ failure in intensive care units [26]. In combination with ARDS it prolongs intensive care unit stays and significantly increases mortality, whereas ARDS itself is a risk factor for subsequent kidney injury [27]. Recent studies suggest several mechanisms for this organ crosstalk, e.g. an increase of systemic inflammatory markers, [4] changes in blood flow, edema, ischemia [28] as well as increased inflammation following antibiotics against bacterial sepsis [29]. However, the crosstalk between lung and kidney is not fully understood and respiratory-dependent SrO2 oscillations may add one more pathway of remote kidney injury that needs to be addressed in future research, because neither kidney damage nor function was directly assessed in this pilot study.
In previously published animal models that focused on occurrence and behavior of cRD-related PaO2 oscillations aggressive ventilator settings with highest tidal volumes were applied to provoke substantial cyclically recruitment of lung tissue [6, 8, 11–13, 23, 30]. The present study is the first one to focus on the tidal volume as a primary driving force for this phenomenon: a down-titration of the applied tidal volume to 10 ml/kg eliminates the PaO2 oscillations. This tidal volume is still considerably higher than those applied in ARDS patients in lung-protective therapy regimes. Computer tomographic clinical studies in ARDS patients document the occurrence of cRD even during lung protective tidal volume ventilation of 4–6 ml/kg [31–33]. Several aspects should be taken into account to understand these controversial results. Insensitivity of PaO2 oscillations in the detection of cRD and occurrence only in large areas of cyclically recruiting lung tissue cannot be fully excluded. However, Hartmann et al. showed that even small cyclically recruiting shunt fractions (lower than 5%) can cause detectable PaO2 oscillations [13]. The present study makes use of two advanced technical approaches at two locations within the bloodstream to depict cRD-related oxygen oscillations that correspond to tidal volume down-titration. Acute lung injury was induced by repetitive bronchoalveolar saline lavage, which is a commonly used model for rapid development of atelectasis and ARDS-like gas exchange impairment. The lavage model is particularly appropriate for studies concerning respiratory physiology or characteristics of atelectasis [34, 35]. The lavage model, though, is criticized for not appropriately reflecting the pattern of human ARDS. cRD is not an exclusive pattern of the lavage model and also occurs in different experimental conditions or models [36, 37] as well as in clinical ARDS studies. Tidal volume indeed seems to be the major determinant for cRD in this acute porcine model, which does not necessarily depict the clinical scenario of ARDS. The non-occurrence of PaO2 oscillations in lower tidal volume ranges in the present study cannot be generalized to clinical ARDS. In this context, combined laser-Doppler flowmetry and white light spectrometry [8] as well as rapid measurement of peripheral oxygen saturation [24] may allow for non-invasive, bedside detection of cRD-related PaO2 oscillations in lung injured patients. Formenti et al. recently developed a platinum-based sensor for ultrafast PaO2 measurement that overcomes the toxicity concerns of this study's ruthenium-based device and may become available for measurement of real-time or respiratory-dependent PaO2 variations in humans [30, 38]. The analysis of PaO2 oscillations showed stronger p-values and better tidal volume correlation than the SrO2 oscillations. But the average PaO2 of 205 ± 90 mmHg during cRD limits the effect onto saturation due to the oxyhemoglobin dissociation curve. Additionally the effect may be limited by the autoregulation of renal blood flow.
Many factors have an impact on oxygen supply: ventilation, oxygen pressure of inspiratory gas, heart rate, cardiac output, perfusion distribution (shunt), metabolic status, oxyhemoglobin dissociation curve. For this study their impact was limited by the application of a standardized protocol and a pre-established algorithm for cRD provocation [13, 14]. Most parameters remained constant during measurements (e.g. metabolic status). The Fourier-transformation mathematically eliminated all impacts not synchronized to the ventilation frequency (e.g. heart rate). Cardiac output depends not only on heart rate, but also on intrathoracic pressure and its variation, which changes periodically at the ventilation frequency. Its impact cannot be eliminated by Fourier-transformation, but is unlikely to fully explain the alteration in SrO2 [8]. Hypercapnia in the ARDS group and a lower pH modify the oxygen dissociation curve. Their impact on the oscillations cannot be excluded in this study. Consistent with the present PaO2 (Fig. 2) the influence of the oxygen dissociation curve limits the extent of SrO2 oscillations. These showed a strict respiratory-dependent character and are in line with previous studies that assessed the transmission of PaO2 oscillation to the peripheral microcirculation [8, 24, 36]. This study served as a proof of concept in a porcine model, but results from long-term experiments or by means of clinically applicable techniques in patients are required to confirm the significance of the reported pathophysiological concept.
Conclusion
The current study confirms two hypotheses in a porcine lung injury model. First, oscillations of PaO2 caused by high tidal volumes in ARDS pigs are transmitted to the renal microcirculation and can be measured at the venous capillary level. This suggests a possible pathway to the injury of organs other than the lung itself. Second, the amplitude of oscillations strongly depends on the tidal volume. This emphasizes the potential role of oxygen variations in deleterious organ crosstalk and highlights the importance of lung-protective ventilation to avoid cyclic alveolar recruitment.
Abbreviations
ARDS:

Acute respiratory distress syndrome
CO:

Cardiac output
cRD:

Cycle-dependent recruitment and derecruitment of lung parenchyma
FiO2 :

Fraction of inspired oxygen
MAP:

Mean arterial pressure
MFPF:

Multi-frequency phase fluorimetry
n.s.:

Not significant
PaO2 :

Arterial oxygen partial pressure
PAW :

Airway pressure
pCO2 :

Arterial carbon dioxide partial pressure
PEEP:

Positive endexpiratory pressure
Pplat :

Plateau pressure
RR:

Respiratory rate
SrO2 :

Renal oxygen saturation
Vt :

Tidal volume
Declarations
Acknowledgements
The authors thank Mrs. Dagmar Dirvonskis for support in logistics and laboratory organization.
Funding
The study was funded by the German Research Council (DFG DA 842/2–2). The design of the study and collection, analysis, and interpretation of data and in writing the manuscript or decision to publish was not influenced by the sponsors.
Availability of data and materials
The dataset analyzed during the current study is available from the corresponding author on reasonable request.
Authors' contributions
RT and CM contributed equally to the study. RT was involved in designing the study and collecting the data. He was involved in drafting the manuscript and revising it critically for important intellectual content. CM was involved interpreting the data, performing statistical analysis and drafting the manuscript and revising it critically for important intellectual content. AZ was involved in designing the study and collecting the data. TL was involved in designing the study and collecting the data. MD was involved in funding of the study, designing the study and collecting the data. EH was involved in designing the study, collecting the data, drafting the manuscript and revising it critically for important intellectual content. All authors read and approved the final manuscript.
Ethics approval and consent to participate
The protocol was approved by the State and Institutional Animal Care Committee (Rhineland-Palatinate, Germany, ID G12–1-059).
Consent for publication
Not applicable.
Competing interests
The authors declare that they have no competing interests.
Publisher's Note
Springer Nature remains neutral with regard to jurisdictional claims in published maps and institutional affiliations.
Open AccessThis article is distributed under the terms of the Creative Commons Attribution 4.0 International License (http://creativecommons.org/licenses/by/4.0/), which permits unrestricted use, distribution, and reproduction in any medium, provided you give appropriate credit to the original author(s) and the source, provide a link to the Creative Commons license, and indicate if changes were made. The Creative Commons Public Domain Dedication waiver (http://creativecommons.org/publicdomain/zero/1.0/) applies to the data made available in this article, unless otherwise stated.
Authors' Affiliations
(1)
Department of Anesthesiology, Medical Center of the Johannes Gutenberg-University, Mainz, Germany