Research article
Open Access
Open Peer Review
This article has Open Peer Review reports available.
Higher occurrence of nausea and vomiting after total hip arthroplasty using general versus spinal anesthesia: an observational study
BMC Anesthesiology
BMC series – open, inclusive and trusted
2016
16:44
Received: 27 February 2016
Accepted: 14 July 2016
Published: 26 July 2016
Abstract
Background
Under the assumption that postoperative nausea and vomiting (PONV) may occur after total hip arthroplasty (THA) regardless of the anesthetic technique used, it is not clear whether general (GA) or spinal (SA) anesthesia has higher causal effect on this occurrence. Conflicting results have been reported.
Methods
In this observational study, we selected all elective THA interventions performed in adults between 1999 and 2008 in a Swiss orthopedic clinic under general or spinal anesthesia. To assess the effect of anesthesia type on the occurrence of PONV, we used the propensity score and matching methods, which allowed us to emulate the design and results of an RCT.
Results
Among 3922 procedures, 1984 (51 %) patients underwent GA, of which 4.1 % experienced PONV, and 1938 underwent SA, of which 3.5 % experienced PONV. We found that the average treatment effect on the treated, i.e. the effect of anesthesia type for a sample of individuals that actually received spinal anesthesia compared to individuals who received GA, was ATET = 2.00 % [95 % CI, 0.78–3.19 %], which translated into an OR = 1.97 [95 % CI 1.35; 2.87].
Conclusion
This suggests that the type of anesthesia is not neutral regarding PONV, general anesthesia being more strongly associated with PONV than spinal anesthesia in orthopedic surgery.
Keywords
PONVTotal hip arthroplastyTHAGeneral versus spinal anesthesiaCausal effectPropensity scoreMatching
Background
Morbidity and mortality related to anesthesia have significantly declined in recent decades [1]. While the safety and efficacy of anesthesia procedures improved, adverse events such as postoperative nausea and vomiting (PONV) have become a target to further improve quality of care. PONV may occur in 25 to 30 % of all surgery, even in 80 % for groups at risk [2]. An optimal management of PONV is important because they can lead to increased morbidity including dehydration, tension on the suture lines, hypertension, bleeding or even blindness [3]. PONV also influence negatively the quality of life of patients, for whom PONV may be harder to bear than postoperative pain [4] and cause feelings of embarrassment, humiliation or fear of subsequent interventions [5]. All these factors may induce a prolonged hospital stay, increase hospital readmission [6] and morbidity [3, 7] and thus contribute to higher health care costs [8].
Total hip arthroplasty (THA) is a frequent operation; in Switzerland, we counted 18,338 cases of hospitalization for a THA in 2012 [9]. PONV is a common adverse event in the specific context of joint arthroplasty [7]. They occur in 20 to 80 % of total joint replacements [10, 11]. THA surgery can be performed under general (GA), spinal (SA) or combined anesthesia. SA is chosen increasingly [12] because it has advantages, including a lower incidence of deep vein thrombosis and less peri- and postoperative blood loss [13]. We thus aimed to understand which factors may mitigate the occurrence of PONV after THA better. For this purpose, we used data from the ADS (Anesthésie Données Suisse) database, a large registry of routinely collected data in Swiss anesthesia departments [14].
Several studies have shown that PONV is more frequent and more severe during general anesthesia than during spinal anesthesia [15, 16], while others show no statistically significant difference [17]. General surgery patients who underwent GA were eleven times more at risk of experiencing PONV than patients who received spinal anesthesia [4]. This certainly explains why the issue of PONV is almost exclusively discussed in the context of GA, despite the increasing proportion of SA performed among all surgical procedures [18].
The purpose of this study was to assess the potential causal effect of anesthesia type (general vs. spinal anesthesia) on the occurrence of PONV in patients who had total hip arthroplasty (THA). To our knowledge, no other studies in anesthesiology have been performed in Switzerland on the issue of PONV in orthopedics with such a large number of patients.
Results
A total of 4873 procedures meeting our inclusion criteria were available in the database. After applying our exclusion criteria and discarding lines with missing values we were left with 3922 patients. Out of these patients 1984 (51 %) underwent GA, and 1938 (49 %) SA. Irrespective of the type of anesthesia, an episode of PONV was observed as a single post-anesthetic event in 93 cases, and concomitantly with one or other events in 56 cases, resulting in a total of 149 cases (3.8 %). Patients' characteristics are summarized in Table
1
.
Table 1
Patients' characteristics (age, gender, ASA score, type of anesthesia and median duration of anesthesia) crossed with PONV experience status (yes/no)
| Patients' characteristics | Total (n = 3922) | Experienced PONV (n = 149) | Did not experience PONV (n = 3773) |
| --- | --- | --- | --- |
| Age (average ± SD) | 64.2 (SD = 12.1) | 63.8 (SD = 11.8) | 64.2 (SD = 12.1) |
| Female | 49.6 % | 71.2 % | 49.6 % |
| ASA score | | | |
|  1 | 13.4 % | 12.8 % | 13.4 % |
|  2 | 60.5 % | 61.7 % | 60.5 % |
|  3 | 26.1 % | 25.5 % | 26.1 % |
| Type of anesthesia | | | |
|  GA | 50.6 % | 55.0 % | 50.4 % |
|  SA | 49.4 % | 45.0 % | 49.6 % |
| Median duration of anesthesia (min) | 171.4 | 172.4 | 171.4 |
We calculated the crude odds ratio (GA vs. SA), which was OR = 1.2 95 % CI [0.87; 1.67], see Table
2
.
Table 2
Crude odds ratio between type of anesthesia and PONV experience status
| Crude odds ratio | GA | SA | Total |
| --- | --- | --- | --- |
| Experienced PONV | 82 | 67 | 149 |
| Did not experienced PONV | 1902 | 1871 | 3773 |
| Total | 1984 | 1938 | 3922 |
After matching, the two distributions of the propensity scores were very similar in those who underwent SA (blue line) and GA (red line) (see Fig.
3
).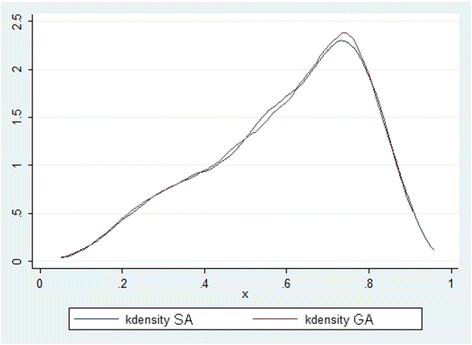 Using the propensity score matching estimator, we found that the average treatment effect on the treated was ATET = 2.00 % with 95 % CI [0.78–3.19 %], which translates into an OR = 1.97, 95 % CI [1.35; 2.87], whereas with the Mahalanobis matching estimator we found ATET = 2.10 %, 95 % CI [0.90 %; 3.39 %], which translates into an OR = 2.10, 95 % CI [1.44; 3.12].
Regarding the average treatment effect for the 3922 patients, using the propensity score matching estimator we found ATE = 1.20 %, 95 % CI [−0.04 %; 2.49 %], which translates into an OR = 1.46, 95 % CI [1.14; 1.87], whereas with the Mahalanobis matching estimator we found ATE = 1.50 %, 95 % CI [−0.05 %; 2.96 %], which translates into an OR = 1.60, 95 % CI [1.22; 2.00]. Therefore, the risk of experiencing PONV was 1.5 ~ 2 -fold higher among patients under GA compared to patients under SA; these result show statistical and clinical significance.
Finally, with the standard logistic regression model including the same explanatory variables as in the propensity score model, as well as the interactions between them, the marginal OR was 1.12, 95 % CI [0.89; 1.41], which is considerably smaller than what we found using causal methods.
Discussion
Relying on the registry, we found that 4.1 % of patients undergoing THA under GA and 3.5 % under SA experienced PONV. These proportions are in line with Singelyn et al. [35] who considered total hip replacement and reported PONV's prevalences of 3, 4, and 7 % depending on the anesthetic technique used.
Our study showed a clear advantage of SA over GA for patients who underwent THA. Had those who received SA had had GA instead, the risk of PONV occurrence would have increased by about 2 %. Likewise, had everybody received GA compared to SA, the occurrence of PONV would have increased by about 1.5 %. Other studies have found contradictory results. The study from Wulf et al. [36], which compared epidural vs. general anesthesia in the perioperative management of hip replacement concluded that PONV was more common with GA, whereas Harsten et al. [37] and Fischer et al. [38] concluded the opposite. However, these studies did not use a causal methodology. Further work, ideally with RCTs, is required to clarify this issue. Nevertheless, our results clearly indicate that for patients undergoing a THA intervention under GA the incidence of PONV was higher than under SA.
Using the standard logistic regression model with the same regressors as those included into the propensity score model, it was not possible to identify the increased risk of PONV for GA. We found an OR of 1.12, 95 % CI [0.89; 1.41], which was small and non-statistically significant. This may be due to a misspecification of the functional form for the linear predictor or the omission of important confounders or interactions. The great advantages of the matching methods are that they are largely nonparametric.
Our study, however, bears several limitations. Pre-operative nausea, particularly transient nausea just after spinal anesthesia injection due to drop in blood pressure, has not been taken into account due to lack of information. Potential, uncorrelated confounders may exist that were not routinely recorded in ADS. The data have been collected over an extended period of 10 years, and it is likely that anesthetic techniques or drugs available to anesthesiologists have changed during this period. As shown by other authors, type of induction and/or maintenance agent influence the risk of PONV [39]. Using a randomized controlled trial of 1180 children and adults at high risk for PONV scheduled for elective surgery, Apfel et al. [40] concluded that in the early postoperative period, the leading risk factor for vomiting was the use of volatile anaesthetics. In the postoperative period, the use of postoperative opioids was an important predictor for vomiting. Unfortunately, these informations were not available within the ADS database. We nevertheless somehow indirectly accounted for them by adjusting for calendar year in the propensity score model. We could not determine if any of the patients in the general anesthesia group had any regional anesthesia for postop pain control, as this information was not collected in the registry. Antiemetic premedication was not collected either, and therefore the inclusion of patients who received such drugs may have introduced some bias. Demographic changes, including the aging of the population who underwent anesthesia [14], were not taken into account. It also should be noted that the quality of the collected data is likely to vary among years (depending on the turnover), although a previous study [14] showed good general quality of the ADS data. Despite a standardized definition, PONV detection relies heavily on clinical judgment, which potentially introduces an element of inter-individual and inter-hospital variability that has not yet been evaluated.
Our study also bears strengths. We used data extracted from a registry of prospectively mandatory reported pre and postoperative adverse events. Several studies have shown that the prevalence of self-reported events on a voluntary basis is generally underestimated [41–43], and such underestimation occurs irrespective of the type of anesthesia [42]. We used routinely collected data for our analyses. Studies has shown that routine data are at least as relevant to the analysis of the quality of care that clinical data collected for this purpose [44, 45], while being more cost-effective [46]. Our single-center study included 3922 acts of anesthesia, recorded over a period of 10 years, which is substantial. As a sensitivity analysis, we used two different causal methods, namely propensity score matching and Mahalanobis matching, to estimate different causal parameters (the population average treatment effect and the average treatment effect on the treated). The results were qualitatively the same and allowed us to identify a higher risk of PONV for GA versus SA; whereas this was not the case using standard logistic regression analysis. Actually, the latter is much more sensitive to misspecification of the model, such as the wrong functional form for the continuous regressors or missed interactions. Finally, unlike an RCT, our research reflects the actual daily practice of anesthesia.
Conclusions
Using causal propensity score methods our study showed that the occurrence of PONV side effects during THA interventions was about 2 % lower for SA than for GA, a result that was not identifiable using standard regression methods only. Our results are of clinical importance given the large number of such interventions performed. Compared to other studies which included fewer patients [17], this study adds generalizability.
Abbreviations
ADS, Anesthésie Données Suisse; ASA, American Society of Anesthesiologists; ATE, average treatment effect; ATET, average treatment effect on the treated; CI, confidence interval; COPD, chronic obstructive pulmonary disease; DAG, directed acyclic graphy; GA, general anesthesia; OD, odds-ratio; PONV, postoperative nausea and vomiting; RCT, randomized controlled trial; RD, risk difference; SA, spinal anesthesia; SSAR, Swiss Society for Anesthesia and Resuscitation; THA, total hip arthroplasty
Declarations
Acknowledgement
We thank Prof. Thomas Perneger and PD Dr Arnaud Chiolero for their valuable comments about this article.
Funding
This research has been supported by institutional funds and the Swiss Society of Anesthesia and Resuscitation. Thoses bodies had no role in the design of the study and collection, analysis, and interpretation of data.
Availability of data and materials
Data will not be shared. The contract between IUMSP, which managed the ADS database, and participating hospitals or clinics do not allow the provision of raw data to the public.
Authors' contributions
JS wrote the research protocol and designed the study. He reviewed the literature, proposed the use of specific statistical methods, collected and formatted the data, drafted the manuscript (with an exception for the "statistical method" part), analyzed the results and draft the conclusions. He gave the final approval of the release to be published. PT wrote the "statistical methods" chapter and participated in the shaping and interpretation of results. He especially worked on propensity score modeling (choice of variables to be included, interactions between variables, collinearity problems, etc.), he proposed to add the Mahalanobis matching method and the presentation of results in the form of Odds-ratio complementing ATE / ATET metrics. BB had been involved in drafting the manuscript and revising it critically for important intellectual content. He suggesteded new references, reformatted the manuscript to match the STROBES recommandations, made critical comments about causal methods and rewrote parts of the draft. All authors read and approved the final manuscript.
Competing interests
The authors declare that they have no competing of interest.
Ethics approval and consent to participate
The Swiss Federal Commission of Experts for professional privacy in medical research has provided an authorization to use these anonymized data for research purposes. Before undergoing anesthesia, explanations are provided and each patient may opt-out and refuse to have his data used.
Open AccessThis article is distributed under the terms of the Creative Commons Attribution 4.0 International License (http://creativecommons.org/licenses/by/4.0/), which permits unrestricted use, distribution, and reproduction in any medium, provided you give appropriate credit to the original author(s) and the source, provide a link to the Creative Commons license, and indicate if changes were made. The Creative Commons Public Domain Dedication waiver (http://creativecommons.org/publicdomain/zero/1.0/) applies to the data made available in this article, unless otherwise stated.
Authors' Affiliations
(1)
IUMSP-Institute of Social and Preventive Medicine, Lausanne University Hospital, Lausanne, Switzerland